Swing garage gate operator is ideal for heavy-duty commercial functions. This unit is engineered in perfection and has a rugged construction to offer you comfort and security. Commercial centers and houses have been known to make wide-ranging use of swing gate operators.
Swing garage gate opener
TECHNICAL SPECIFICATION of Swing garage gate opener

| | |
| --- | --- |
| Model | SD1108 |
| Motor power supply | 24V DC |
| Rated power | 40W |
| Rod speed | 1.6cm/speed |
| Max.Leaf width and weight | 3m&350kg |
| Max.Opening angle | 110° |
| Operating ambient Temp. | -20°~+55° |
| Gross weight | 18kg |
FEATURE AND ADVANTAGE of Swing garage gate opener

1. Strong and beautiful appearance make it well equipped with the iron gate, wood gate.
2. Soft start and stop, avoid damaging to gate, lower noise and longer service life.
3. Emergency release key in case of power failure.
4. Adjustable opening/closing interval between master and slave gate.
5. Stop/Reverse in case of obstruction during gate opening/closing.
6.Opening towards outside or inside is available when firstly install,only the direction is fixed. it can not be changed.
Dual stainless Steel Housing

Double side board built in control box

Built-in Soft Start and Stop

Emergency Release Key




6. The rolling code remote control with no repeating code and anti-theif,ensure a safe house.




7. Control panel is adjustable to control 1 leaf or 2 leaves.




8. Control panel have the terminals for photocell,caution light,IC card reader(access keypad), 24 V back up battery,push button etc.





1 leaf or 2 leaves opening or closing
can be adjusted by Control Box

Frequency: 433.92 MHz
PACKAGING DETAILS of Swing garage gate opener


Package size:1.0(L)*0.26(W)*0.13(H)(m) Gross weight:18kg
OPTIONAL ACCESSORIES
Photo cell-

$ 8/pair

Caution light-

$6/set

Access keypad-

$25/set

Electric latch-

$35/set
A. Photo cell
1. It can detect the tiny obstruction during gate closing or opening and make the gate open automatically. Avoiding people and gate opener from hurting.
2.The valid detecting range of the photo cell is 10 meters.
B. Caution light
When the person force entering the house,the cuation will light and sound.
C. Access keypad
Connectiing with the access keypad, you can set the code or using the card to control the gate access.
D.Electric latch
24V DC latch for additional safety of the gate.Release key to unlock the latch when power failure.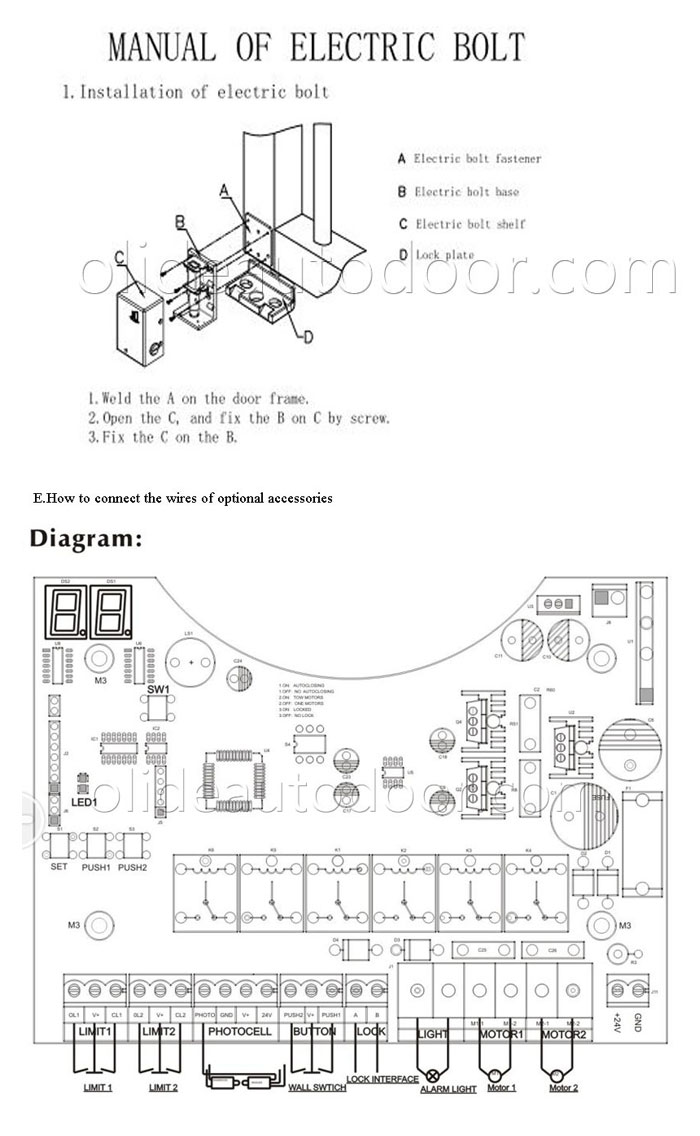 1. "LIGHT" for a flash lamp,24V DC.
2. "MOTOR1","MOTOR2" for 2 motors 24V DC.
3. "LIMIT1","LIMIT2" for the magnetic limit switch on motor1,motor2. (It is useful only for the motors with magnetic limit switch.)
4. "PHOTOCELL" for infrared protect device.
5."BUTTON" for all switch."PUSH1" control double-leaf gate,step-by-step "PUSH2" control single leaf gate which must be the priority of opening one step-by-step.
6."E_LOCK" for electronic lock. It can be convected with electronic lock which power is 24VDC.


INSTALLATION PICTURE FROM CUSTOMERS PROJECT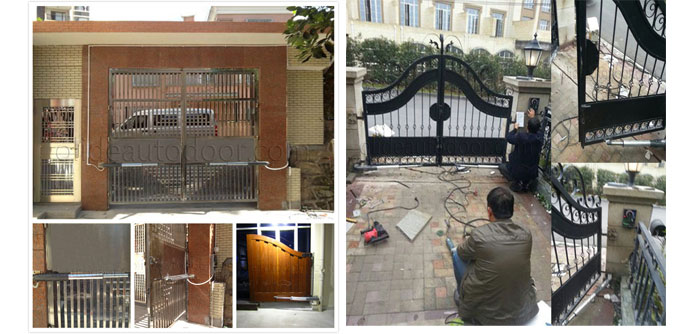 ADVANTAGES OF USING Swing garage gate opener:

• Protective Manual Release – Every swing garage gate operator has its own key chain-ready manual release. In case there is failure of electricity and no back-up battery charges, this manual release key is used to open your gate safely without disconnecting anything from your gate or destroying your opener arm.
• Adjustable Features – Depending on your needs and preferences, this swing gate opener has an excellent feature that can be modified. This can fit your lifestyle, need and preference. With this, you are free to pause, to open or to close your gate anytime you want.
• Weather Resistant – As compared to others, this unit can handle heat, cold and other weather conditions. It means that it is not at risk to any damaging element and can last for a longer period of time.
• Extreme level of Security – This swing gate operator brings great security to all users. It automatically reverses directions, especially when it contacts obstructions. It also has the safest features that will meet your needs.
• Adds Value to Your House – With this gate operator, you can have a chance to increase the value of your house. This is very essential, particularly to all home and company owners who opt to sell their properties.
• Brings Comfort and Worry-Free – This swing gate opener gives you a peaceful mind, especially when you are not around at the vicinity. This is also the best way of securing your family at all times.
Chinentech, the automatic entrance expert, Offer you with effective and high quality garage gate operator.
PACKAGING AND SHIPPING

SWING GARAGE GATE FEATURES:

Open and close the gate by remote controls.
Auto closing when the gate is open. Time duration can be programmed from 0 to 99 s
Auto stop when the running gate meet with resistance;
The force of motor can be programmed;
It is selectable to control 1 leaf or 2 leaves;
WHY CHOOSE US?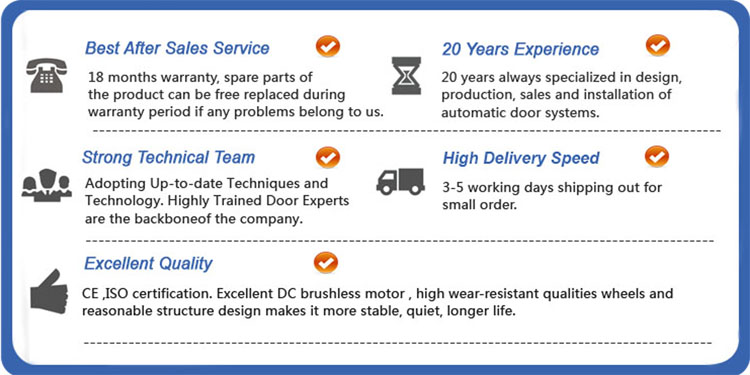 CONTACT US